The garden has become a special place, especially during Covid-19 pandemic. During shelter-in-place period, I made several garden decorations by upcycling locally sourced items.
Sheltering in place makes me really appreciate having a garden. It's my first time having a garden, learning about the existing plants there, and adding new ones.
I started with succulents (low risk of killing them) and several easy houseplants. Eventually, I found myself working outside in the garden a lot more to grow vegetables like tomatoes, potatoes, radishes, and cabbages.
To be honest, working around the garden plays a crucial role in supporting my mental health during Covid-19 pandemic era. So it's only natural that I'd like to be creative in the garden by upcycling items sourced from local neighbors and garage sales.
Subscribe to my newsletter
It feels wonderful to expand my creativity beyond the wardrobe. Several small decorations and personal compositions start popping up in the garden. Rather than creating eye-catching structures, I tend to support and subtly amplify what's already in the garden as naturally as possible.
Here are highlights of my garden decor making projects. While there's already so many inspirations out there, hopefully they can further encourage your creative urges in the garden!
Garden Decor #1: Vintage Lampshade Hanging Planter
A neighbor let go of a vintage lamp with Roman numeral-printed lampshade. After separating the lampshade, I switched the top and bottom rings, replaced the ribbons holding them together, and put some foam remnants on the bottom. Moreover, another neighbor donated a chain-link planter hanger.
Nowadays, a potted sempervivum cluster lives happily in this hanging planter, which reminds me to never take time for granted.
Garden Decor #2: Yellow and black Paper Pumpkins
Inspired by Yayoi Kusama's pumpkins, I started this project impulsively. A neighbor gave away two plain paper pumpkins after Halloween, and I couldn't take shake the creative urge away.
After priming, painting, and stamping on them using available supplies, these two paper pumpkins are now loyal companions to a couple of potted plants.
Garden Decor #3: Fairy Garden with broken terracotta pot pieces
I initially got broken terracotta pieces from a neighbor, with firm intention of using them as garden borders. The idea of making a fairy garden came after seeing several big intact pieces.
After arranging the broken pieces and some succulent cuttings, I stacked a couple of mini planters inside the fairy garden. The highlight is a pair of mini wooden clogs hanging on the front. I used a pair of light purple earrings hung on an "arbor" arch above a garden bench as a subtle finishing touch.
Garden Decor #4: Decoupaged Planters
I have several Japanese washi papers that never got out of paper storage for several years already. I used some of them to rejuvenate a couple of old and slightly chipped planters.
I also used cut-up Japanese wrapping paper to work on another planter. This one is ceramic and had minor chips on the rim. Reskinning was done after caulking and priming. It's now housing some of my favorite graptopetalum succulents.
Garden Decor #5: Vintage Wooden Clogs
I got these severely deteriorating wooden clogs from the Netherlands at a local sale. After considering several upcycling ideas, I decided to restore and paint them.
After wood filling, sanding, and priming them, my friend Jesus Romero helped me paint on them. The color scheme is inspired by Spring / Summer 2022 Color Forecast by The Doneger Group.
More Garden Decors: smaller projects around the garden
Aside from more involved garden decor projects, I also do smaller garden decor projects with quicker turn-arounds. Here are some highlights:
So there you have it! I'm looking forward to continue decorating the garden slowly and thoughtfully, using tools and supplies I already have or sourced from the local Buy Nothing community.
I highly recommend you to join or start one in your area! Not only it's sustainable to share and receive lightly used items to your neighbors, but it's also a great way to build positive relationships, support your neighbors, and spread joy to your community. Have fun!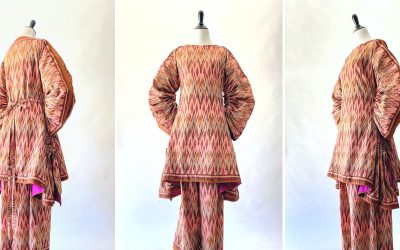 Modern Ethnic outfit is my interpretation of kebaya dressing. They are made using vintage ikat textile and inspired by several free minimal-waste patterns. Only on fafafoom.com.