This article is exclusively written for Fafafoom Studio by guest writer Reese Jones. Thank you so much Reese for reaching out and gifting Fafafoom readers with your wonderful writing. Enjoy the these slow fashion tips for a more sustainable wardrobe!
It's pretty clear that the fast fashion industry continues to pose a huge threat to the planet. Fast fashion statistics show that clothing production has doubled, while garment usage lifetime has decreased significantly. Moreover, 20% of global wastewater comes from textile dyeing, and 92 million tons of clothes-related waste is discarded each year.
Transitioning into slow fashion is our best bet if we want to reduce our environmental impact and live more sustainably. With that, we've rounded up five tips to help you transform your current wardrobe for a cleaner, greener future.
Subscribe to my newsletter
1. Understand the slow fashion movement
Slow fashion is essentially against the unethical and unsustainable production practices of fast fashion. Truly understanding sustainable living means more than just buying from brands that call themselves earth-friendly. Rather, it's a lifestyle choice for people who aim to reduce their carbon footprint and conserve the earth's resources.
So to take part in the movement, you need to refrain from purchasing, and instead make a conscious effort to keep repurposing, recycling, and refashioning second-hand items or pieces you already own. Not only is it better for the environment, but refashioning what you have actually stretches your creativity and helps you develop your personal style.
2. Research on sustainable materials
Hemp, linen, and organic cotton are favorites among sustainable brands because they're produced with the most minimal waste. You might also notice that certain sustainable fabrics have a longer lifespan, while polyester and other virgin synthetic materials feel cheaper and easier to ruin.
Reclaimed fabric, often called deadstock, is one way that manufacturers can refashion fabric that's leftover from production. Try investing in garments that are made from any of the mentioned sustainable fabrics, and always do your own research when it comes to sustainable brands to make sure they're really walking the talk.
3. Choose timeless designs
Check your wardrobe for pieces that have classic designs. It can be anything from your trusty form-fitting jeans, or a good trench coat. Build your outfits around those pieces, and don't be swayed by fleeting trends that are designed to keep you spending.
Before purchasing anything, always try the 30 times wear test, in which you ask yourself if you can see yourself wearing a certain piece of clothing more than 30 times. And when you're refashioning, try to go with classic designs like lace decals, button-downs, or your little black dress. These pieces are easily customizable, yet basic enough to go with just about anything else in your closet.
4. Learn how to repair
When a piece of clothing tears or a shoe breaks, get creative and try mending it yourself, or have it fixed by a professional. Being sustainable can be as simple as learning sewing basics to help extend the life of your valued clothes, or finding a great tailor to rely on in case your items need a bit more TLC than home repair.
When you give your damaged clothes to charity or a clothing recycling unit, that doesn't necessarily guarantee that they'll be repaired and rehomed. Often, these clothes will still end up in landfills, so it's best that you handle the repair process yourself. Plus, you can add your own touches to your repairs by adding patches or a little embroidery to ripped areas, for example.
5. Transform pieces
Upcycling isn't a new phenomenon, but more and more people are discovering the appeal of transforming the things they no longer want into something they'll enjoy again. Our gathered cloths project, for instance, uses unwanted fabrics, scraps, and textile waste from the local community and assembles them to create usable items.
Thrift-flippers on platforms like TikTok have also made transforming secondhand clothing appealing, and helped raise awareness of the dangers of the fast fashion industry. If you want to do your part, you can start by going through your own wardrobe, or taking unused pieces from your parents and turning them into something completely your own.
Making the switch from fast fashion to slow fashion can be intimidating, but hopefully, our five tips for a more sustainable wardrobe have made the transition a bit easier for you. For more creative ideas, check out our blog here at Fafafoom Studio.
Article written by Rosette Johns
Exclusively for Fafafoom Studio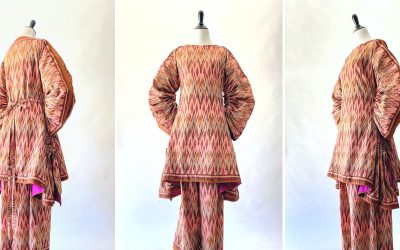 Modern Ethnic outfit is my interpretation of kebaya dressing. They are made using vintage ikat textile and inspired by several free minimal-waste patterns. Only on fafafoom.com.