Restoring and repairing a beautiful handmade 1950s dress for my summer 2022 wardrobe. Smart alterations include addition of lining and inseam pockets.
When my neighbor was moving out of state, she gave me a few garments to care for. Believing that they wouldn't go to landfill anytime soon, she entrusted garments previously worn by her elders to me.
One of them is this 1950s dress, a handmade dress made with Atomic Age printed synthetic blend fabric – a trendy choice at the time. My neighbor's grandmother made it herself. It's clear she was a skilled maker – the garment's condition is very good and all of the stitches were intact. I tried it on and it already fit so well as-is!
That said, I noticed several things that could be made better and stronger so it can sincerely be part of my wardrobe. After making an assessment, I decided to restore and improve the dress using supplies I already have on hand.
Subscribe to my newsletter
Assessment of the 1950s Atomic Age Dress
First thing I noticed is the discoloration around the left shoulder. I can't do anything about it, but it's a good reminder that the previous owner and maker spent much time wearing this dress, sunlight bathing her left shoulder over the days she spent wearing it.
I also noticed weakening interfacing around the front placket, as well as one loose button. That's about it for the waist up portion. Everything else was in excellent condition.
The waist down section seemed to require more work. The most obvious one being the dress had no pockets of any kind, something I would gladly fix.
Moreover, the dress had no lining. Since it's on the thinner side, I want to line the skirt portion for both comfort and wind break functionality. Lastly, the waistline was drooping on one side. This would be fixed when I add the lining.
Restoring and Reinforcing
I started with a couple of easy victories, fixing the top portion. I replaced the worn interfacing on the front placket, and subsequently replaced all the buttons. The original buttons were of clear glass, and I opted for a set of vintage half-dome buttons that would bring out the muted turquoise blue color of the Atomic Age motif.
The rest of the work was concentrated on the skirt, so I opened up the waistline seams. The skirt was gathered with small pleats, so I made sure to keep that design aspect intact.
First, I added two inseam pockets. I hid the pocket openings within the inner pleat placements so they're inconspicuous. More importantly, I made sure the pocket size is good and that they're anchored securely to the waistline.
After the pockets are added, I cut the lining fabric (a printed cotton fabric) to encircle the entirety of the skirt portion. Of course, the lining was pleated as well to mimic the shell fabric.
I couldn't show it in the pictures, but the lining was connected to the shell fabric on the center front area that's secured with sew-on snaps. It's all detailed work that had to be done with hand stitches. While most people would not see this work, it's a necessary one nonetheless.
I sandwiched the original Atomic Age print skirt with the pockets and lining carefully before I sewed back together. While I did this, I also fixed the waistline drooping issue.
The last thing I did was level the hemline that got crooked after the waistline realignment, and finished the hemline with a bias tape.
Result
The restored 1950s dress does not look shabby at all! It's now ready for its next chapter of life in my wardrobe. I'm insanely in love with the hidden and anchored inseam pockets. They are my favorite features of this vintage Atomic Age dress.
Oh, I also found a small tear near one armpit seam, so it's a good opportunity to darn it.
I recently wore this dress to a winery outing. No one suspected the dress to be that long-lived, let alone originated in the 1950s. Everyone was so impressed when they found out the dress has lived much longer than anyone present! My friends couldn't believe how strong and sturdy the Atomic Age printed fabric looks.
It's an honor and such a pleasure to restore and alter this well-made 1950s dress. Welcome to my wardrobe, dear one! I hope to wear you for many more years to come.
Thanks for reading; until next time,
Musank
Disclaimer: I may earn a small commission for my endorsement, recommendation, testimonial, and/or link to any products or services from this website. Thank you for your support!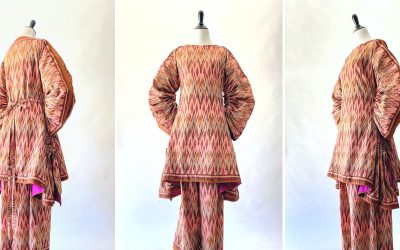 Modern Ethnic outfit is my interpretation of kebaya dressing. They are made using vintage ikat textile and inspired by several free minimal-waste patterns. Only on fafafoom.com.