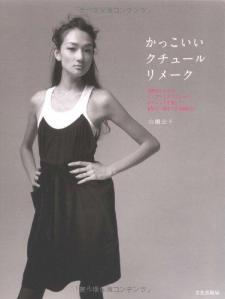 Recently, I visited San Francisco Japan Town's Kinokuniya book store. My first ever garment upcycling / refashion book "Kakkoii Couture Remake" by Koko Yamase (pictured left) was there. Having done several projects from this book, I was swept with happiness. Koko Yamase's website Matriochka is both fashionable and home-y, and this book has that vibe. Undoubtedly, this is the book that got me into stylish garment upcycling.
The English version Cut-Up Couture: Edgy Upcycled Garments to Sew book (pictured below right) is now available. The project featured on the English cover is my favorite, and Carly Cais of Chic Steals shared her step-by-step tutorial of this convertible blouson tunic.
There's no excuse for fellow DIY fashion lovers not to have this book. It's really inspirational and straightforward. The projects encourage you to rethink and reshape men's sweatshirts, T-shirts, and dress shirts into beautiful, fashionable home couture pieces.
My latest project from this book was the one on the Japanese book cover. The process was quite fun and painless! It took several hours to complete it. It could've been finished faster, but I didn't have a dress form and had to go back and forth to the mirror to check the pieces' alignments.
With that said, below is the up-to-date list of DIY projects I have done based on the this book. The page numbers noted below are based on the Japanese version "Kakkoii Couture Remake."
Subscribe to my newsletter
On Japanese version's cover, page 29 – 31
Trompe-L'oeil One-Piece from T-Shirts
You've been warned. The projects are so much fun. So have fun!
Musank
I may earn a small commission for my endorsement, recommendation, testimonial, and/or link to any products or services from this website. Thank you for your support!
Subscribe to my newsletter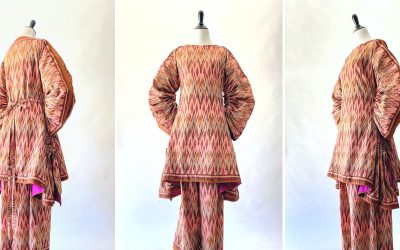 Modern Ethnic outfit is my interpretation of kebaya dressing. They are made using vintage ikat textile and inspired by several free minimal-waste patterns. Only on fafafoom.com.