Beautifying a hardly worn silk blouse by hand stitching lace appliques (cut out of lace remnants) on it, inspired by a pink dress shirt Carrie Brownstein wore on recent "Late Night" TV appearance.
I was enthralled with the sakura pink blouse with black lace appliques Carrie Brownstein (from IFC show Portlandia) wore during her appearance at NBC's Late Night with Seth Meyers. I couldn't get it out of my mind after so long, so I decided to make one.
Fortunately, I have a dark green/grey silk blouse from UNIQLO that I like enough to not giveaway or sell, and yet I don't like it enough that it never successfully left my closet. Combining that blouse with green/black lace remnants I have from a previous DIY project, I'm all set to work it on my dress form!
Subscribe to my newsletter
List of Materials
1. Blouse (or a dress shirt)
2. Lace Remnants
3. Needle and thread for hand stitching
4. Dress form – for me, this is VERY IMPORTANT
5. Dress pins
6. No-Fray glue (I used Dritz Fray Check)
One thing I want to emphasize from the list is the dress form. Having only purchased this (used) dress form recently, I can honestly say this project would be infinitely more difficult without one. The dress form is THE tool for this sewing project. I cut, laid out, set, and hand stitched the lace appliques on the blouse while it's on the dress form.
How to Make
First of all, I took out the lace remnants I last used on DIY "I Heart Lace" dress. Examining the fabric, I made ot outlines of flowers and leaves. I cut off those shapes one by one, as neat as possible. Then, I applied no-fray glue on their outlines and left the pieces be for a little bit to dry off.
Now it's the fun part! After setting the blouse on the dress form, I laid the lace pieces on the blouse, using dress pins to set them in place. I worked slowly to set the pieces, frequently pausing to consider the configuration, unpinning and moving around the pieces to my liking.
Knowing that silk fabrics scar easily when marked with pins, I tried not to move around the pieces too much, though.
After I'm feeling good about the configuration (more appliques surrounding the left shoulder area, sparse otherwise – just like the inspiration), I set the lace applique pieces in place with some good ol' hand applique stitches!
I worked with each appliques one by one, starting from the front left side and working my way around. Having the blouse on the dress form helped me tremendously in quality check. I did have to go very slowly to make sure the stitches were clean and tucked in, and the silk fabric to stay nice and smooth.
I used all-purpose polyester thread, but using silk thread is definitely a better option for a smoother process. If you're doing this, make sure your needle is super sharp so you don't scar the already delicate fabric.
The Result
After hours of hand stitching (about 7 – 8 hours), the blouse was finally done! Here's some detail shots of the blouse when it's all said and done.
I'm really happy with the result. I will definitely be able to wear this to work this fall. For the purpose of this photoshoot, I found it really appealing to counter "girly" lace appliques with a man's hat for styling.
And that's about it! What do you think about stitching lace appliques on your blouse? Or maybe even something simpler, like stitching lace appliques on your shirt collar?
I personally love how personalized this DIY theme is. The concept is very straight forward, but the time spent will depend on how elaborate you want it to be. For me, it took about 15 hours from start to finish. Please let me know if you've done (or will do) something thematically similar. I'm sure it's fantastic :)
Thanks for reading; until next time,
Musank
Disclaimer: I may earn a small commission for my endorsement, recommendation, testimonial, and/or link to any products or services from this website. Thank you for your support!
Never Miss a Post
Enter your email below to receive the latest Fafafoom Studio post in your inbox.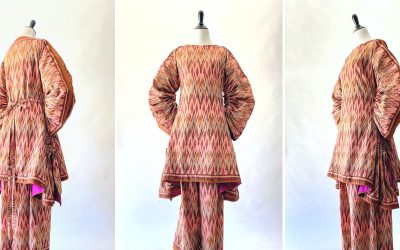 Modern Ethnic outfit is my interpretation of kebaya dressing. They are made using vintage ikat textile and inspired by several free minimal-waste patterns. Only on fafafoom.com.