This DIY made from a men's shirt was a happy accident. It was originally intended to become something else. However, after wrestling with the original design idea for too long, I decided to do a completely different route, and this blue shibori dye skirt was born. I chose to keep the natural shape of the men's dress shirt torso and added waist gathering and pockets as details.
Subtly artistic with a bit of quirky, the shibori dye skirt features side pockets (the front one is purely decorative) and requires long skinny scarf (or scarves) to tie on the waist. For this particular skirt, I used my yellow and white Banana Republic scarf to give a pop of color that provides good contrast with the blue, while complementing the orange bias strip for the pockets.
Making the Skirt
Originally, I intended to do a shirt dress using two men's dress shirts. Yes, I was aiming to do one of the projects in Koko Yamase's book "Kakkoii Couture Remake" (or the English version "Cut Up Couture") once again.
So that's why I have a piece of cut-up men's dress shirt torso with no sleeves or the shoulder/neck area. I tidied up the what-used-to-be-the-armhole sides with some top stitching.
And this is where I changed course. I shibori dyed the shirt blue using some round shaped stones and elastics. If you're new to fabric dyeing, you might find some of the things I learned handy).
Making the Waist Tie Casing
From here, I used my orange bias tape and elastic thread to create the narrow pipeline on the wrong side of the shirt, for which the long scarf can pass through.
One long bias tape for the back, two shorter ones for the front. The width of the pipeline depends on your scarf, but you can see from the pictures below that I had to open up the bias tape wide in order to create decent-sized openings.
After I'm done sewing, this is what the skirt looked like with the scarf going in the openings and gathered at the front.
Adding the Pockets
When I tried it on, I realized the sides (what used to be the arm holes) were open; I needed to create pockets to make them more functional.
This was my first time drafting and creating pockets. I created two simple oval shaped pockets, with the front part mimicking the side curve.
To give it a bit of a pop of color on the sides, I put a bit of leftover orange bias trim (yes, I love orange so much) on top of the pocket's back part.
And that's what the skirt looked like with pockets on the side!
Result: DIY Shibori Dye Skirt
I styled it really simple with a white shirt to showcase the shirt-on-shirt top-bottom placement…it's kind of cute in a somewhat unexpected way.
It's more than casual, but not enough to be called dressy. I like the ambiguity this DIY shibori dye skirt creates :)
Styling can potentially be very versatile for this skirt; a simple tank top for casual late-summer look or a dressy top for a more unexpected look…why not?
This shibori dye skirt is easy to take on and off, the scarf makes it secure, and you can change the "waist tie" to be any long scarf or belt or anything else you like. What's not to love?
What do you think? I'm honestly a bit nervous of how this skirt is going to be "received". That being said, I'm really loving this skirt and I can't wait to rock it out soon!
Thanks for reading; until next time,
Musank
Disclaimer: I may earn a small commission for my endorsement, recommendation, testimonial, and/or link to any products or services from this website. Thank you for your support!
Never Miss a Post
Enter your email below to receive the latest Fafafoom Studio post in your inbox.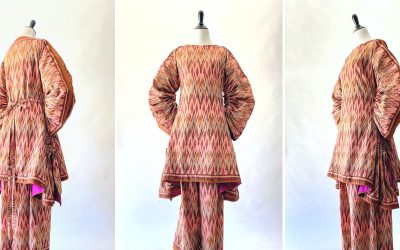 Modern Ethnic outfit is my interpretation of kebaya dressing. They are made using vintage ikat textile and inspired by several free minimal-waste patterns. Only on fafafoom.com.