An old pair of flats are refashioned into elegant lace pair with velvet back detail. IMO, they are very elegant and perfect for special occasions now, including weddings!
I got this pair of Target x Sam & Libby flats approximately six years ago, and they have been worn regularly over the years. I have worn them to countless events and gatherings. They're my go-to black flats, they are sturdy despite all the wears.
Still, they started to look too beaten up, and I did not want to waste money buying another pair to wear to my friends' winter wedding. So along with the refashioned purse with lace ribbon trim and the black fur bolero shrug, I chose to give these flats a boost.
Using fabric samples and remnants of lace, velvet, and beige synthetic lining, I transformed these flats to be worthy of black-tie events. What's even better was I didn't do any sewing for this project!
Subscribe to my newsletter
Materials:
a pair of Target x Sam & Libby flats (pictured below)
black lace fabric sample
black velvet fabric sample
beige polyester fabric remnant
black/blue leather remnants
tracing paper or cotton fabric scrap for simple pattern copying
Process Overview
Similar to fabric collage shoes, the idea is to cover the shoes with fabrics to create a new, fresher look. Here's the summary of my process.
First, I created pattern pieces of the toe box and heel counter areas of the flats that I wanted to cover.
Then I transferred the toe box's pattern piece to the beige lining fabric, and glue them on using ModPodge. I did my best to get rid of the air bubbles.
After both shoes are dry, add one more layer of ModPodge. After the last layer is dry, trim or tidy fabric excess on the sole and vamp area of both shoes.
Now I repeated the previous steps with black lace remnants.
While waiting for the last layer of ModPodge on lace remnants to dry, I transferred the counter's pattern piece to the velvet fabric, and glue them to one shoe using Fabri-Tac. I repeated this with the other shoe.
I made small notches on the velvet fabric excess so they can be folded and glued neatly inside the counter.
It's hard to take clean pictures, but I had the velvet piece wrapped around the 1/4" heel. Fabri-tac really did wonders for projects like this.
By this time, I made notches on the excess lace remnants, folded and glued them inside the toe box. The lace remnants on the bottom of the shoes are trimmed carefully. About 3/8" or less all-around excess were glued onto the soles with Fabri-tac.
Last but not least, I created linings with leather remnant for both the inside vamp area and heel area. I glued them in place with fabric-tac.
These leather pieces provided a nice finish and ensure soft contact to my skin. After all, I wanted to ensure comfortable shoe wearing all night long!
Result: Elegant Flats Refashion with Lace and Velvet Details
Et voila! What a transformation. Don't they look gorgeous?
I surely felt so elegant AND comfortable (thanks, leather lining) wearing them all night, plus dancing and jumping around. It's a successful project, and I look forward to wear them more!
Thanks for reading; until next time,
Musank
Disclaimer: I may earn a small commission for my endorsement, recommendation, testimonial, and/or link to any products or services from this website. Thank you for your support!
Never Miss a Post
Enter your email below to receive the latest Fafafoom Studio post in your inbox.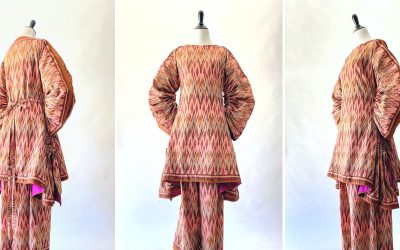 Modern Ethnic outfit is my interpretation of kebaya dressing. They are made using vintage ikat textile and inspired by several free minimal-waste patterns. Only on fafafoom.com.