Pieces of pink knit fabric remnants are transformed to a sleepwear set. Smaller scraps are turned into ruffle details on the shirt and shorts.
Continuing the line of "sleep" theme I started with DIY Sleep Eye Mask Bags, I decided to make a new sleepwear set – a top and a pair of shorts. I needed a replacement for a set that became too fragile to wear.
Just like the case with the eye mask bags, I used fabric remnants (about 1.5 yard long) to make this set. The pink cotton knit fabric remnant was already cut out in some places when I received them, so it's not a "whole" fabric. No matter. It's really soft and pretty, perfect for a sleepwear set.
In pursuit of zero waste, I used the fabric remnant as optimally as possible. One of the shorts' pattern pieces was made in patches. I also used the remnants to create decorative ruffles in various sizes. I think this ruffled sleepwear set turned out really great! Read more and see it yourself.
Subscribe to my newsletter
Materials:
Pink cotton knit fabric remnant (about 1.5 yard, cut out in sections)
Model top and shorts for pattern copying
Scrap cotton / muslin fabric for pattern transferring
Mechanical pencil and ruler
Sewing machine (mine is Brother CS6000i model)
Pink thread and sewing machine needle (I used Schmetz Ball Point Jersey Machine Needles, Size 80/12)
1/2" wide elastic
Needle and thread for hand stitching
Process:
First, using the model top and shorts, I copied the patterns to scrap cotton fabric. Then they were transferred to the pink cotton knit.
It was pretty straightforward to make the top. I sewed together the front and back and finished the neckline before attaching the sleeves. Once that's all done, I sewed the sides. I left the sleeves' edges and hemline as-is.
The shorts was a little more involved. Since the remnants were limited, the shorts' front right pattern piece had to be made with two fabric pieces patched together.
To hide the seam lines of the shorts' front right hip area, I made several varying ruffles using the remaining fabric strips. These ruffles were stacked and stitched onto the patch on the short's right front side to cover the seam line.
I don't have a ruffle foot, so I did the "long stitch length, high tension" trick. For this particular knit fabric, it worked just fine. However, the steps to make foolproof ruffles outlined by Seasoned Homemaker looks awesome to use for woven fabrics. I should try it next time since I don't plan to have a serger anytime soon anyway.
After sewing all the pieces for the shorts, I added elastic for the waist band. I encased the elastic and sewed it shut around the waist line, getting as close as possible to the ruffled hip part. That left around 6 inches or so.
I hand stitched that remaining 6 inches because I didn't want to show the stitch line on the ruffles. I wanted them to pop, so I finished the waist line's elastic casing by stitching under those ruffles.
Just like the sleeves, I left the shorts' leg openings as-is. No hem finishing necessary for this pink sleepwear set!
After I was done with making the top and shorts, there were strips of fabric remnants everywhere. They're enough to be assembled to be used as decorative ruffle details on the bottom of the T-shirt. So I did just that. I layered and added more ruffles to sparse places along the hemline as I go.
My apologies for lack of pictures. I was in the zone during most of the project, I didn't think of taking step-by-step photos. Nonetheless, I hope the overview of the process above is helpful.
Result:
So here it is! Below are pictures of what the pink ruffled sleepwear set looks like when worn. It's really soft and the irregular ruffles are refreshing. I didn't worry too much about pinpoint accuracy when I made this set, and I enjoyed my time without bothering to fix every single crooked line.
That said, there's one thing I'm really proud of. At the end of this project, the only pink knit fabric remnants left are very tiny strips more suitable for stuffing. The initial fabric remnant piece is 99% used up to create this ruffled sleepwear set!
Minimizing fabric and textile waste has grown to be a big deal for me, so it's great I can stick to that principle now when I'm doing my home sewing projects. How about you – are you fully aware of your sewing project remnants when you're all done creating something? What do you do with your remnants?
Thanks for reading; until next time,
Musank
Disclaimer: I may earn a small commission for my endorsement, recommendation, testimonial, and/or link to any products or services from this website. Thank you for your support!
Never Miss a Post
Enter your email below to receive the latest Fafafoom Studio post in your inbox.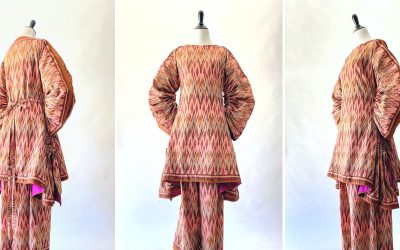 Modern Ethnic outfit is my interpretation of kebaya dressing. They are made using vintage ikat textile and inspired by several free minimal-waste patterns. Only on fafafoom.com.