Sleep eye masks don't usually come with bags, so why not make some with fabric remnants? It's an easy sewing project that not only keeps your eye masks clean, but also allows you to experiment with various fabric types!
Almost in a blink of an eye, I have four eye masks in my possession. By eye masks, I mean the ones you use to help you sleep, not the skin care kind. To avoid confusion between the two types, I'll call them "sleep eye masks" from here onward.
One thing is the same for all of them: they don't have a container. For something so delicate and travel essential as sleep eye masks, I think a container is very important to keep them clean and undamaged. I'd compare it with a pillow and its pillowcase. It makes less sense to have one without the other, right?
Subscribe to my newsletter
If you're in a similar situation and you have relatively small scraps of fabric remnants or samples, it's an easy sewing project to make a sleep eye mask bag. Their dimensions is roughly 8.5" x 4.5".
My process to make sleep eye mask bags is as follows:
First, decide which two fabric remnants to use for shell and lining. For this example, I use a printed cotton/linen blend for the shell and a lightweight denim for the lining.
Then cut both fabrics to 8.5" x 9" plus sewing allowance, then fold widthwise (to make 8.5" x 4.5" bag)
For the shell, sew around the edges save for the opening. For the lining, sew the long edge.
With the shell and lining's right sides together, sew the circumference of the bag opening.
Now, flip over the lining fabric and sew the other end.
Almost done! Now, insert the lining inside the shell. Press the bag.
You're done! The only thing left is to insert the eye mask inside the bag :)
In my case, I made four of them with several kimono silk, linen blend, cotton, and denim fabric remnants. Each of them served as mini experiments. One has softer finish, the other has a sturdier finish with folder style, another has a plastic snap closure, and the last one has a folder detail and a snap closure.
The idea is to make little variations in creating simple DIY sewing projects so that you can keep learning about different materials and textures. Having mini experiments like these are very useful when you feel intimidated with certain materials.
Coming into making these sleep eye mask bags, I was hesitant about working with vintage silk remnants or embroidered fabrics. Now after making several bags with these materials, I definitely gain a better understanding about how they behave.
I also took notes of certain sewing machine settings to keep in mind when I work with similar materials in larger scale!
Speaking about larger scale, if your fabric remnants are a bit bigger in size, how about making a lingerie bag for your corsets and special underwear? Add a zipper too, so you can practice sewing zippers!
In any case, fabric remnants are precious and their potentials are infinite. Having mostly work with fabric remnants and garment upcycling, I really love discovering and learning new things from working with them.
I found it good to go back to simple projects to refresh from time to time. I was in between garment sewing projects and felt a little overwhelmed with life situations. Making sleep eye mask bags helped me bounce back.
Minimal preparations, easy and relaxing process, cute yet necessary results. And I felt a lot better afterwards. All around win-win situation!
How about you? What do you do with your fabric remnants, especially the smaller size ones? Please chime in your comments!
Thanks for reading; until next time,
Musank
Disclaimer: I may earn a small commission for my endorsement, recommendation, testimonial, and/or link to any products or services from this website. Thank you for your support!
Never Miss a Post
Enter your email below to receive the latest Fafafoom Studio post in your inbox.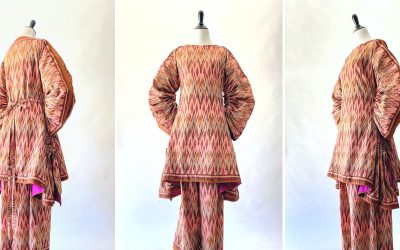 Modern Ethnic outfit is my interpretation of kebaya dressing. They are made using vintage ikat textile and inspired by several free minimal-waste patterns. Only on fafafoom.com.