Making this Every Body Tunic from Texture Clothing's PDF patterns makes me wish I made this when I first started sewing! With a beautiful A-line silhouette and an optional pocket, it's beginner friendly and the perfect building block to build confidence in sewing. 
I got an email from Teresa Remple of Texture Clothing one day, asking me if I'd like to test her Every Body Tunic PDF pattern, which is now currently available for sale. Texture Clothing has always offered high quality clothing that fit multitudes of body shapes and zero waste production goal. Also, Teresa is such a kind, inspiring soul to be around, so it's just a no-brainer to me to say yes!
Luckily, the timing works perfectly. I was pulling out this approximately 2 yards of cotton print fabric I got from my Japan travel several years ago, featuring repeated pretty red, blue, and white vintage-inspired floral design. The bold and lively pattern needs to be showcased, but I was undecided about what type of garment to make until Teresa's email came along. Everything suddenly clicked and it felt like it's meant to be made into an Every Body tunic.
Subscribe to my newsletter
I'm not going into details of how I made the Every Body Tunic. If and when you decide to purchase Every Body Tunic pattern from Texture Clothing, the straightforward directions are included there with the downloadable PDF pattern. Nor do I get any commission from writing this. So what's this post about?
When I made this tunic over a couple of days, I was constantly thinking about how nice it would've been if I made this garment when I first started learning to sew. So with that in mind, I jotted down some notes that may help beginner sewists to overcome that "newbie hurdles."
Starting to sew a piece of clothing can be intimidating, especially if you're not yet besties with your chosen sewing machine and various sewing notions. I was certainly lost at times when I started sewing. It was hard to be proud of my first few makes, and I almost quitted sewing altogether in the first few years. I felt that if I made something like this Every Body tunic, the process of getting more familiar and comfortable with sewing would've been much smoother.
So here are 3 main reasons why I love this Texture Clothing's Every Body Tunic pattern for beginner sewists!
1. It's a relatively easy garment to make
When you first started sewing a clothing, you probably started with a friendly woven fabric like cotton or hemp. Even though they don't have stretch, natural woven fabrics can be showcased beautifully with a simple silhouette like Every Body Tunic. It has a lovely, subtly flaring out A-line silhouette with an option to put a pocket or two on the front. No sleeves, no fastenings. That's it. Without the pocket, there's only two pattern pieces to assemble – front and back, cut in fold.
This was my first time working with a PDF pattern, so I'm a beginner in that regards. Assembling them was the biggest time sucker during the whole project; I had to tape and re-tape the papers several times before I was satisfied.
After the pieces were all taped, however, cutting (or copying) the pattern according to preferred measurements was a breeze! You might want to trace two different pattern lines to make your garment – no two bodies are alike, after all.
For me, I have a short torso and long legs. So according to the pattern's measurements, I chose to trace the S lines around the neckline, shoulder, and armhole and the XXL lines on the sides and hemline. It's quite an easy personalization to do, so go for it!
2. It's a good garment to set up realistic expectation with
When I started sewing, I didn't realize how important this point is. It's easy to daydream about making the best garment you can make, but when we're still starting out, our abilities don't match with our expectations yet.
That's why this tunic is a great exercise. It's a simple yet versatile garment where you can base your realistic expectations on your skills and comfort. It can be as basic as practice sewing to couture-inspired embellished tunic with beads, sequins, and feathers.
My expectation was to have a good finished garment so it looks good outside AND inside by focusing on the following to-do list:
non-stretched, flat neckline and armholes with uniform length
bias tape finish with on the side seams and around neckline and armholes to prevent fraying edges
topstitch the shoulder seams for stronger shoulder seams to accommodate the longer hem length (XXL length on a S body)
That's all my focus points for making this garment, and I could execute those because the fabric I chose is non-fussy. It's a good lightweight woven printed cotton print that I could sew with universal sewing needle and a home sewing machine. Aside from bias tape, no fancy sewing notions or tools were required.
3. It Provides Versatile Building Blocks to Build Skills
The tunic's construction was straightforward, yet I found the silhouette very flattering. I especially love the subtle flare of the A-line, I could imagine how rewarding it would be for home sewists to try on the garment in front of the mirror after the garment pieces were sewn but not necessarily finished.
Seeing how good a garment looked in the mirror could boost confidence. The confidence was fuel to finish the garment, and good finishing would make the garment look and feel so much better.
More importantly, it builds genuine appreciation about well constructed, good quality garment. Our perception over what good fashion has been warped with fast fashion quality and prices. Practice making a so-called good garment can help improve our mindset about how fashion should move forward in the era of climate change, where sustainable practices are crucial. 
Finishing a garment after all the seam lines are sewn provided the perfect opportunities to really build sewing skills. With small victories of pattern pieces assembled and curiosity of good construction practices, it's time to bring home the main objective of making a good garment with good finish.
As previously mentioned in my expectation, the lowest hanging fruit for this tunic was to finish the side seams, hemline, neckline, and armhole openings with a double fold bias tape. Beginner sewists could start building this essential skill. The curving lines of armholes and neckline might take some practice to get used to, but it's so worth having this skill in the bag. Once the curves were done, bias tape sewing on the around the hem would be a victory lap. 
More experienced sewists can look for ways to make the bias tape finish more high-end, like clipping tiny chunks of fabric when seam lines meet to reduce bulk of layers. Or applying bias tape on side seams before finishing the armholes and hems. Or how about sewing some horsehair braid for the hem as added weight instead of bias tape? 
Another opportunity for those making the tunic in lightweight woven fabric is making a lining. How about a contrasting lining that feels soft to the skin?
And the opportunity to build skills for garments are not limited to making MORE things. Sometimes it's about editing things out, and it largely depends on personal preferences and accumulated knowledge / awareness. My choice not to add pocket(s) to my Every Body tunic was one of such decisions. The lightweight nature of my fabric would risk future tearing around the pocket's corners. I tend to put heavy items into pockets and this garment would be misshapen and abused in no time had I added pockets.
Of course, there are many other opportunities to build skills with making a garment like this. Adding sleeves! Make contrasting or pattern matching pockets!  However, I felt it's more important to set expectations around a garment by doing a couple of things well, and then build more skills with another garment project. That way, it's a continuous journey of exploration and practice. Case in point: I actually made some modifications to this Every Body Tunic pattern and ended up making a sleeveless coat with neoprene fabric remnants. 
And oh, my Every Body tunic turned out just as I expected. I absolutely love it!
And that's it! I hope my notes, jotted down as I made the tunic is helpful to you. It doesn't matter what kind of garment you're constructing as you begin your sewing journey. Just make sure to be kind to yourself, set up realistic expectations, and have fun!
Thank you again for my awesome friend Teresa Remple of Texture Clothing. This tunic pattern is beautiful, versatile, and such a fun to make a tunic out of them. I'm looking forward to see more versatile sewing patterns available! 
Thanks for reading; until next time,
Musank
Disclaimer: I may earn a small commission for my endorsement, recommendation, testimonial, and/or link to any products or services from this website. Thank you for your support!
Never Miss a Post
Enter your email below to receive the latest Fafafoom Studio post in your inbox.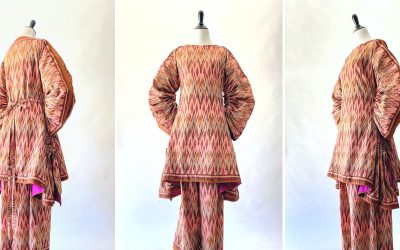 Modern Ethnic outfit is my interpretation of kebaya dressing. They are made using vintage ikat textile and inspired by several free minimal-waste patterns. Only on fafafoom.com.