How would I style my girlfriends with Japanese kimono? That's the question I've been pondering, and one day we found out the answer! Featuring Vero, Audrey, Michelle as my models, and fashion designer friend Jesus Romero as my co-stylist!
It's no secret that I love Japanese kimonos. I have bought several during my Japan travels and vintage shopping trips. A Japanese kimono design is brilliant – simple yet effective, materialized with carefully chosen natural materials and gorgeous colors, patterns, and embellishments.
Although wearing a kimono in a proper, traditional Japanese way is elegant, I have become more increasingly inspired by books and magazines that offer more modern styling ideas. They make Japanese kimono dressing more creative and personal. You can see my three favorite outfits I styled with Japanese kimono elements here.
While I know how I'd approach kimono styling, I wonder… how would I style my girlfriends? I sort of "pitched" this idea to my friends Vero, Audrey, and Michelle, and thankfully they're excited about it! So I arranged one Saturday when we could get together and have a kimono styling party. I set aside three Japanese kimonos from my personal collection and asked them to bring their favorite garment(s) or accessories to style with.
The day we agreed on happen to fall on my birthday weekend, so it felt very special. They gave me the most precious gift ever: time. One day when we could hang out, have fun styling, and have a photoshoot. When they allowed me to experiment by combining their personal style and my Japanese kimono collection.
Subscribe to my newsletter
By the way, I wouldn't be able to pull off this party alone if not for my secret weapon Jesus Romero. I invited him to help style the girls. Longtime FAFAFOOM reader might remember him as a graduate of Art Institute of California – San Francisco, displaying his great talents of fashion design and construction in three student collections.
He's now a dear friend who has done a couple of commission pieces for me, and we are currently working together on a fashion collaboration that showcases garments created from rescued fabrics, scraps, and vintage garments. That will be a another story to be unveiled soon :)
For the styling party, I honestly had no concrete expectations. I knew we'd have lots of fun, Jesus would be my ace, and Vero, Audrey, and Michelle would look great. Together, we'd enjoy the organic process of creating an outfit for all three.
I asked Chris to have a minimal setup for the photoshoot. He put up a white background in our family room with a couple of flashes. We wanted to focus on the girls and their outfits. I have to say… Vero, Audrey, and Michelle looked so beautiful and their personality shone through with their outfits!
Let's take a look, shall we? As always, special thanks to Christian Hadidjaja for taking pictures of these gorgeous girlfriends!
AUDREY
Personal style: casual (t-shirt and jeans) with accent accessories
Personal items: black leather jacket, skull necklace, booties
Kimono: ivory based with multi-color flower petal silhouettes
Styling vibe: badass femme fatale
For Audrey, Jesus and I draped the mostly blue colored flower petal patterned kimono in high-waisted-skirt-like manner. The opening on the front resembles that of a tulip skirt, whereas the sides and back resemble more Victorian-inspired draping.
To add a pop of color, an orange shibori obi was wrapped and finished with a kai-no-kuchi (clam's mouth) knot, and completed with a blue obijime tie. Audrey looked stunning, bold, and confident – she completely rocked it!
MICHELLE
Personal style: chic and feminine
Personal items: white floral cutout tank, series of bangles, white flower pin
Kimono: seafoam green kimono with Japanese maple leaf patterns
Styling vibe: elegant warrior princess
For Michelle, we ended up not using her tank at all and went with a one-shoulder neckline look. The light colored kimono with gold and green maple leaves looked amazing on her! We focused on creating a continuous diagonal line by wrapping an orange and gold obi around her waist and finished it with a lop-sided bow knot pushed on one side. Michelle has gorgeous lines; from her collarbones, shoulders to her toned arms – she truly looked stunning in this outfit!
VERO
Personal style: lover of colors and textures
Personal items: white and blue jumpsuit, multi-colored heels
Kimono: multi-colored striped purple kimono
Styling vibe: cheerful siren
For Vero, we worked with a striped purple kimono to expand the whole striped outfit concept. Instead of adding a thick obi on her mid-section, we used lighter weight red obiage sash and several obijime ties (one of them became her headband) to emphasize her fun vibe. These splashes of color provide an electric finishing touch to the stripe combinations that elongate her silhouette. Vero was so energetic and vivacious; her outfit moved so well with her the whole time!
Oh, we had so much fun that day. They all looked great, we laughed so much, and the results are awesome. I was and still am tremendously grateful for them to spend their day with me. That was as close to a perfect day I've ever experienced in my recent memory. Big hugs and kisses to Vero, Audrey, Michelle, Jesus, and Chris – they all made me feel so special and loved.
I hope this experience would stay in our happy memories for a long time… and shall we do it again?
FAFAFOOM readers, what do you think? What kind of styling projects should we do next?
Thanks for reading; until next time,
Musank
Disclaimer: I may earn a small commission for my endorsement, recommendation, testimonial, and/or link to any products or services from this website. Thank you for your support!
Never Miss a Post
Enter your email below to receive the latest Fafafoom Studio post in your inbox.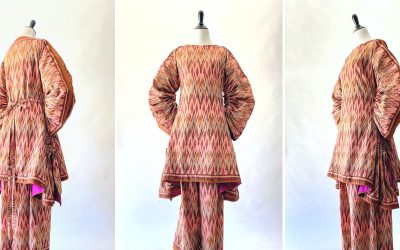 Modern Ethnic outfit is my interpretation of kebaya dressing. They are made using vintage ikat textile and inspired by several free minimal-waste patterns. Only on fafafoom.com.